Camp Bullis Dark Skies Zone
---
Comal County has adopted an Order to help preserve our dark skies in a portion of Comal County. The Texas Legislature has authorized counties to regulate outdoor lighting in areas adjacent to military installations.
Camp Bullis, primarily in Bexar County, but partially in Comal County, is a critical training facility for the United States military, where all branches of the service train their medical personnel to function at night, under fire. The continued viability of Camp Bullis for such training purposes is essential to the readiness of the United States military, the utility of Fort Sam Houston, and the vitality of Comal County's economy. On April 4, 2008, Comal County received a letter from Major General Russell Czerw, Commanding General, U.S. Army Medical Department Center and School at Fort Sam Houston, requesting that Comal County issue an order regulating outdoor night-time lighting for new construction within three miles of the boundaries of Camp Bullis in order to protect military night training activities.
After giving an appropriate public notice, the Comal County Commissioners Court conducted a hearing on the proposed adoption of this Order on January 7, 2016. On that same day, the Comal County Commissioners Court adopted Order No. 367 - ORDER AMENDING ORDER No. 199 FOR REGULATION OF OUTDOOR LIGHTING IN THE UNINCORPORATED AREAS OF COMAL COUNTY, TEXAS WITHIN THREE MILES OF THE CAMP BULLIS BOUNDARY. A copy of the Order can be found by clicking here.
All public and private outdoor lighting installed after the effective date of this order in the Camp Bullis Dark Skies Zone shall be in conformance with the requirements established by this Order. All regulated outdoor lighting shall be IDA Products installed and maintained according to the manufacture's specifications and/or IDA's specifications with the intent to avoid interference with the night training of Camp Bullis. For more information about IDA and approved products, please visit the IDA website. By order, a permit from the County Engineer's office is required before installation of any outdoor lighting. A copy of the permit can be found here.
Apply Online
If you are planning to put up Christmas lights this year, don't worry. According to Article III Section 1 of the order, "Decorative holiday lighting from November 15 through the next January 15 is exempt."
This Order also authorized the County Engineer to place signage along the public right-of-way within the Camp Bullis Dark Skies Zone to enhance awareness of this Order. An example of this signage is shown below: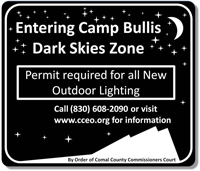 Click to enlarge images
The Camp Bullis Dark Skies Zone Affected Area within Comal County is shown in the map below: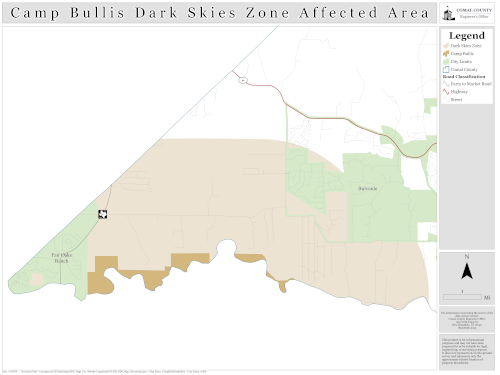 Click to enlarge images
If you have any questions concerning this Order, please feel free to contact the County Engineer's Office